10 Jul

The Field Admins and Map for CampZone 2018

Some of the bigger and important questions we receive each year can be compiled into two topics. 'Who will be the Field Admins for this year?' and 'What will the map look like?', and this year is no different, with multiple of these questions each day. Of course, it's exciting information, not only because the Field Admins take care of each field, but also because you want to place your tent on a field that you can feel right at home at for eleven days straight. Fortunately, today is the day we can answer both of these questions. Now that our map is final and properly laid out, we can finally introduce the Field Admins for this year! If you've been with us before, you might recognize some names, but we also have a brand new Field Admin that can't wait to make their field the best of CampZone. Sounds like a good challenge towards the other FAs, so Game On! Without further ado, here are the four different Field Admins for CampZone 2018:

—
Feestjuh Online
Feestjuh Online has been known for ages as a relaxed and carefree field. Once again, this crazy group from Friesland (including adopted Brabanders, Hollanders and even a real Twentener!) will be your personal manager and Field Admin! Feestjuh always has a cup of coffee ready for anyone brave enough to visit them, so don't hesitate to say hey. Their famous Pepper Wodka will also be plenty stocked! If it was up to these guys, their booze would definitely destroy more than you would want to admit.
—
THOR
THOR is a friendly group of students hailing from Eindhoven and its surrounding towns. Members have been visiting CampZone since 2012 and decided in 2015 to form a dedicated clan. This year they are merging with Dutch Rebel Alliance, a social gaming community, but the name THOR is a keeper. As you can expect from a group like this, comradery and fun are priority number one and laughter should be heard all around. Each year THOR organizes a barbecue for the entire field so visitors can enjoy good food, good music and a cold beer together, hopefully accompanied by warm weather. Interested in enjoying CampZone together with THOR? Feel free to stop by their tent to have a chat, or poke one of their members on Discord for more information.
—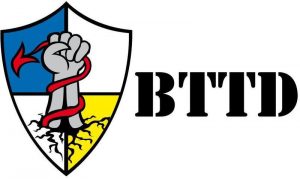 =BTTD=
Better Than the Devil, also called =BTTD=, is home base for a fun and close group of CampZoners. They can be easily recognized by their classis arched tents and matching camouflage nets, which results in their camp looking like it came straigth from the army. But don't be afraid of their military regime, because despite of all their rugged materials, they're all just a bunch of very welcoming dudes from Limburg who're always up for some fun. So pay them a visit to have a little chat and a beer, which gives you a good excuse to have an up close look at all that 'army goodness'!
—
Clan BadJas
Clan BadJas is a (somewhat bigger) group of friends who do all sorts of fun stuff together. Where it once began as a simple LAN-party, CBJ has grown to organize various different events. LAN-parties, paintball and airsoft days, nothing's too extreme for them. CBJ has been a prominent guest at CampZone for over a decade and they've established a positive reputation over all those years. CBJ consists of about fifty active members, with an odd twenty to thirty members present at any given random event.
—
HackZone
New this year is a proper own field for hackers and tinkerers. The HackZone field is for everyone who loves soldering, welding, programming, lighting, WiFi, 3D-printers, and robots. On this wonderful field, with own Field Admins, there will be workshops and presentaties, there's a huge public dome tent where anyone can come to tinker with stuff, and visitors work on super cool own projects. Check the HackZone page to see if this field is for you, because you do need to like being near weird stuff being built, and having people weld next to your tent.
—
At this point you're probably wondering which Field Admin will be keeping an eye on which field, or are just curious for what the final layout of this eighteenth CampZone will be looking like. Well, the wait is finally over, because here's the official map for CampZone 2018!
(Text continues below the picture)
Although it might look a bit different than previous years (our terrain has moved a fair few meters to the north), we're all quite positive about this new layout. You might have already spotted all the possible spots for the rented army tents, and we have some good news about that as well. Did you rent an army tent in our shop? Then, starting this week, we'll try to contact you as soon as possible so you can choose where you want your tent to be placed. There are quite a few rented tents, so have some patience if you don't hear from us immediately.
CampZone is quickly taking shape leading up to the event, and with only seventeen days to go we can't wait to open the gates and let our eager visitors in. We, our Field Admins, all the helping hands and of course the visitors themselves are surely going to make this yet another great edition, with probably at the least a handful of memorable occurrences. CampZone is coming. See you there!